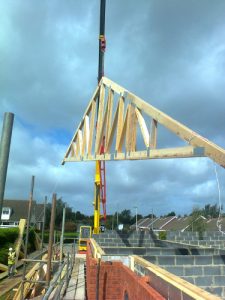 Super Building with Stockport Construction
Stockport Construction is a company based in the Stockport area but also working throughout Manchester. Are you looking for a Stockport Construction company that is trustworthy and reliable? Building projects often involve major changes to a property. This can be stressful for the homeowner as they see their world rapidly changing. Our home is our sanctuary and when we engage a building company we can feel like the home has been invaded. Stockport Construction is an excellent company with a focus on customer relations and excellent communication. They will help you see and understand all of the work that will need to be done and they will hold your hand throughout the process to help reduce the anxiety and stress.
Fully Certified Builders

Stockport Construction are fully certified builders. The owner, Glyn Johnson, is a full member of the Federation of Master Builders. Builders who are members of the FMB voluntarily place themselves under the rigorous Code of Practice. This protects customers and ensures they benefit from a transparent building contract that uses a format approved by the FMB. Builders who use these contracts ensure that customers really understand what they are buying. This visibility helps avoid confusion and ensures everyone is on the same page and has the same expectation. Consequently Stockport Construction has many satisfied customers many of whom recommend these builders to their friends.
Builders in Stockport Expert at House Extensions
Quite often it makes more sense financially and practically to stay where you are and build house extensions rather than up and move to a completely new area. Moving house is one of the most stressful experiences you can have. New neighbours, new school and even new friends can all add to the stress. Staying where you are; employing builders in Stockport for your house extensions makes a lot of sense. Stockport Construction are builders in Stockport that specialise in house extensions. They have accumulated many years of experience and earnt themselves an excellent reputation.
Extensions and Loft Conversions on Budget!
There is nothing worse than employing a construction company that give you a superb quote but once the work gets going there are lots of hidden costs and 'unforeseen developments.' If you are thinking about extensions and loft conversions you will already be planning your budget and thinking through the financial cost – this is sensible. It also makes sense to use a company who have a reputation for building extensions and loft conversions on budget. Stockport Construction has a wealth of experience in this area. When they take on a project they know what they are doing and how long it will take and how much it will cost.