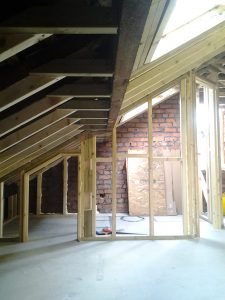 Our Services
Loft Conversions
An attic is often wasted space that at best is used for storage or accumulating junk! However, there is a solution, converting your loft is an easy and efficient way to renovate your house and increase the living space in your home. It's an opportunity to make great use of your living space, extending your home without having an extension! There are so many options with a loft. It could include an ensuite bathroom or walk in wardrobe. The additional bonus is that it will also add value to your home.
Stockport Construction can support you through the whole process, advising you from concept to completion. We will cover all aspects of installation, overseeing the involvement of other professionals such as plumbers and electricians. All our work is carried out with minimal disturbance.
For more information contact Stockport Construction.